Clifftop club, auli
ALL ACTIVITIES START EX-CLIFF TOP CLUB, AULI
Please ask Us for the offered price. Trekking package trip includes:

1- Transport from New Delhi or Rishikesh to Joshimath, vice versa. Transport from Joshimath to the road heads, vice versa.
2. Good decent accommodation (Camps/Lodges) during the entire trip.
3. All meals hygienically cooked and served by our well talented cook! Before leaving Joshimath, the Customer makes the choice of the menus, subjected to available grocery that time.
4. All services and informations provided by our reliable English speaking staff.
5. Porters of food, camping - trekking - and cleaning equipments (kitchen, tents - toilet, customers and staff equipment, ration and fuel…).
6. Portage of customer's personal baggage during the trek as an option.
7. Local trekking permits and fees.
8. Eco friendly behavior during the trek. Adventure Trekking has already begun a cleaning program around the local villages, in mutual agreement with the Uttaranchal Forest Department.


Day 1 : .
After the Breakfast Leave for the local Guided trek to have a beautiful view of Helang Valley (If No Snowfall). Enjoy open Chairlift ride to Sanjeevni temple. After Lunch or with packed mini-lunch, visit Lake Valentine amidst thick pine forest and... Enjoy Sunset from Gorson Sunset Point. Back post-dusk, Night stay at Resort.

Day 2 : .
After the Breakfast, Leave by first cable car at 9:30 AM with packed mini-lunch for Local Sightseeings in/around Joshimath which is a summer seat of Bhagwan Vishnu instead of Badrinathji. Visit Tapovan Temple, Hot Sulphur Water Springs, Narsimha Temple, Shankracharya cave.Back before the dusk by last cable car at 4 PM (July-April) & 6 PM (May & June). Night stay at Resort.
OR
During Winters and subjected to min.1 feet of snow.After the Breakfast,pre & post lunch for 3-4 Hours,learn a game of Skiing & techniques of falling & balancing.One can get Himself/Herself acquainted with Snowboarding too.

Day 3 :
After the Breakfast, During April end-Oct end,Leave for Badrinath (44 Km),which is most important Dham of Hindu Religion out of 4 Dhams of India and also 4 Dhams of Uttaranchal Himalayas.After paying visit to deity have a bath in Taptkund. Back before the dusk by last cable car at 4 PM (July-April) & 6 PM (May & June). Night stay at Resort.
OR
Day Completely free to relax/enjoy on your own.

POSSIBLE EXTENSION TREKS:
1.Curzon Trail (Kuari Pass) - Talli - Tapovan - Joshimath Trek
Grade : Soft Trek
Season : Apr-Nov/Dec or uptill snow starts
Duration : 4 Days
Lord Curzon made the trek to Kuari Pass, and since then it has come to be known as Curzon's Trail. It is very popular among Euoropean and American Travelers. In 1905, Lord curzon reached Kuari pass from Ghat via Ramni. Today many trekkers prefer to undertake the trek in the reverse direction. They climb the ridge above Tapovan, and reach Gailgarh, where the trail coming from Gorson meets. One can also reach Kuari pass from Aull bugyal through Gorson top.The trek should not be undertaken in winters, as a major portion of the trail is covered with snow. The main attraction of Curzon trail is the majestic view of the twin peaks of Nanda Devi, Kamet, Dronagiri, and Hathi - Ghodi parvat. Along the trek we'll pass through pristine Rhododendron, Oak and Deodar forest. Rare Himalayan flora and fauna are aplenty on the trail. At Tapovan there is a massive sulphur spring. The waters of the spring are said to have excellent medicinal properties.

Day 1 : AULI TALI TREK: 14 KM.
Early morning after breakfast ,continue trek to Tali. Enjoy the morning view of snow covered greater Himalayan range with the Nanda Devi peak. The entire trek today is gradual ascent through the meadow and the forest. Arrive Tali and camp besides a small Lake surrounded by Forest. Enjoy an enchanting sunset on the Mt. Nanda Devi . Explore the meadow. Meals and overnight camp.

Day 2 : TALI -GAILGARH 10 KM TREK.
Meals and overnight camp.

Day 3 : GAILGARH-KUWARI PASS 8 KM TREK
Early morning enjoy the panoramic view of the valley from the camp. After late breakfast we trek to Lord Curzon Trail.Meals and overnight camp at Kulara.

Day 4 : KULARA-DHAK 12KM TREK+14 KM ROAD TO JOSHIMATH. OVERNIGHT: HOTEL
After commencing Trek & late lunch excursion to Tapovan village on the Niti High way. We visit the Tapovan hot spring. After a cup of tea in a village tea house We drive dinner and overnight stay at Joshimath Hotel.

2.Valley of Flowers + Hemkund Sahib Treks
(Auli- Joshimath - Govindghat - Ghangaria - Hemkund - Lokpal Sahib - Valley of Flowers - Badrinath - Joshimath )
Grade : Soft Trek
Season : July-August
Duration : 5 Days
In 1931, TG Longstaff and Frank S. Smythe were part of a team of six British mountaineers that climbed Kamet, came across a valley beyond Bhyundar Pass that had "lush meadows… embowered amidst flowers. The Bhyundar Valley was the most beautiful valley that any of us had seen." Smythe in his book recalls that his camp was surrounded by a variety of flowers – primulas, white anemones, golden nomocharis, marigolds, globe flowers, delphiniums, violets, eritrichiums, blue corydalis, white roses and rhododendrons. Higher up, near the moraine, were saxifrage, yellow and red potentilla, geranium, asters and gentians, so many that "it was impossible to take a step without crushing a flower".

Though the local villagers of Bhundar Valley knew it as andankanan since time immemorial. They feared venturing into the valley, because of the spirits and fairies that were thought to be haunting the beautiful valley. They feared that the spirits would carry them away. More than thousand varieties of flowers, ferns and Himalayan herbs grow in the valley. The most beautiful of all Himalayan flowers, the blue Primula can be seen blooming in thousands in the valley. The best time to see the valley in full bloom is from mid July to mid August. To reach the valley one has to trek from Govind Ghat, on the route to Hemkund Sahib, upto Ghangaria, 12 kms ahead. Few furlongs ahead of Ghangaria the trek route to the valley takes a detour towards left.The Valley Of Flowers is accessible from a remote village in the Indian Himalaya called Gangharia by 5 Km Trek. Getting to Gangharia is a small adventure in itself

Today this Bhyundar Valley is not very different from how Frank Smythe first found it to be. Through strict environmental control and tight Government of India regulations, the sanctity of Frank Smythe's discovery – the Valley of Flowers has been carefully preserved. If you stand at the foot of the valley, grassy meadows run down to the cleft of the stream, which, even in August, is still fringed by ice. On both sides, green slopes turn to dark rock as they vault into deep blue skies. Rising gently, the valley ends as notch on the horizon, crested by the snows of the Rataban (6,166m) and Nilgiri (6474m) peaks. And underfoot, the flowers that give the valley its name.

Day 1 : Joshimath-Ghangharia
22 kms drive to Govindghat by Jeep. Further 14 kms trek to Ghangharia with packed lunch. Dinner and overnight at TRH Ghangharia.
Altitude : 3048
Description : Ghangria is situated on the bank of Pusphavati river also known as Laxman Ganga ,surrounded by fur trees.
Local Sites : Visit valley of flowers and Hemkund Sahib.

Day 2 : Ghangharia-VOF & back
5 kms trek to Valley of Flowers with packed lunch.In the afternoon, trek 5 kms back to Ghangharia. Dinner and overnight at TRH Ghangharia./Lodge. Current Government regulations do not permit any camping within the notified are of the valley and entry to the valley is restricted to permit holders only. The trail is well chalked out, and is a delightful ramble as it climbs gently through a coniferous forest, before descending to a bridge, and check-post that mark the official entry to the Valley of Flowers. Climbing up a rocky trail, with the forest behind us, the first flowers begin to appear. Every morning after breakfast, trekkers would be escorted into this garden of Eden to explore different cross sections of the Bhyundar Valley. Packed lunches, flasks full of hot beverages as well as assorted refreshments would also be arranged. By evening the group would be escorted back to our base camp at Gangharia where dinner would be served after a round of refreshments.

Day 3 : Ghangharia-Hemkund & back (4329 mts./6 kms.; 4 hrs each way)
6 kms trek to Hemkund Lokpal Sahib with packed lunch. In the afternoon, trek 6 kms back to Ghangharia. Dinner and overnight at TRH Ghangharia/Lodge. Hemkund is a special place and a "must see". The place has a Lake on whose banks are a Lakshman Temple and a Gurudwara of Guru Govind Singh. Guru Govind Singh is revered by Sikhs, Hindus and others and over the years Hemkund has acquired international acclaim.

Day 4 : Badrinath
14 kms trek to Govindghat with packed lunch. Further 22 kms drive to Badrinath. Dinner and overnight in TRH / Hotel Snow Crest, Badrinath.
Altitude : 3110
Description : It is situated on the bank of Alaknanda, standing like twin sentinels over the valley are the Nar and Naryana peaks,and in the distance soars the respelendent Neelkanth peak. The Badrinath temple is in the lap of Narayana Parvat with Neelkanth in the background. It is called the Moksha dham/Vishnu lok.
Local Sites : Mana village,Ganesh Gufa, Vyas Gufa, Bhim Pul, Shesnetra, Brahma Kapal, Narad Kund, Tapt Kund, Panch Dharas, Charanpaduka and Mata Murti.

Day 4 : Drive to Joshimath or if required,directly Rishikesh,anywhere else in Kumaon/Garhwal.
44 kms back to Joshimath

3. Nanda Devi National Park (a World UNESCO Site) Trek
Grade : Moderate
Season : July-October
Duration : 1 week
The centre piece of the Garhwal region is undoubtedly the Nanda Devi Sanctuary. Until 1934, the gorge of the Rishi ganga river and the immediate area around Nanda Devi peak was one of the least known and most inaccessible parts of the Himalayan region. In the Sanctuary, the mountains stand in a vast amphitheater, seventy miles in circumference and Nanda Devi in the highest peak in the Indian Garhwal Himalaya. The mountain has two summits, the main summit at 7816m (25,643ft) and Nanda Devi East at 7434m (24,389ft). The mountain itself in surrounded by a number of peaks over 21,000ft, making it an extremely difficult mountain to access. This circle of peaks forms what is known as the Nanda Devi Sanctuary.

Day 1 : Joshimath-Belta Altitude 2850m. 26Km drive+4 Km Trek.

Day 2 : Belta to Lata Kharak Altitude 3689m. 5 Km Trek

Day 3 : Lata Kharak to Siani Kharak & back Altitude 2035m,4+4 Km Trek
OR & back
Lata Khark to Zandhidhaar & Satkula Altitude 4023. 6 Km Trek

Day 4 : Lata Kharak /Satkula to Dharassi Pass,Altitude 4152m. 8 Km Trek

Day 5 : Dharassi Pass to Deburugetha, Altitude 3689m. 4+4 Km Trek

Day 6 : Dharassi Pass to Tolma, Altitude 3750m. 9 Km Trek

Day 7 : Tolma to Suriatthota, Altitude 2329m. 5 Km Trek+28 Km Drive back to Joshimath






uttarakhand map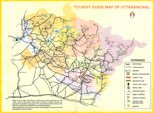 Click for Enlarge View