About us
INCREDIBLE INDIA Hotels & Resorts Pvt. Ltd. / Lets Hotels, Resorts & Camps - Where Hospitality is a Tradition, brings to you the Luxury and Budget Accommodations all across Devbhoomi Uttaranchal and present you with fine boutique properties built on an environmental friendly concept-Eco & Responsible Tourism in the Uttaranchal Himalayas with the basic common theme.

Our USP lies serving to a Niche Clientele, blend of both a discreet Traveler & the new ones who want to explore the Devbhoomi Uttaranchal Himalayas with us. We cater to the various different category of Guests who want to explore Uttaranchal Himalayas with various themes - Adventure Sports, Honeymooners, Students, Leisure, Pilgrim, Corporate who want to mix business with pleasure or those who just want to be with themselves and the Mother Nature.

INCREDIBLE INDIA Hotels & Resorts Pvt. Ltd. / Lets Hotels, Resorts & Camps shall try to ensure that once you are with us for the first time, you are with us forever and ever because our endeavor has always been to consistently improve our services by means of inviting innovating ideas by the Guest and our Tourism Trade Supporters.

INCREDIBLE INDIA Hotels & Resorts Pvt. Ltd. / Lets Hotels, Resorts & Camps have the presence at every neck & corner of Devbhoomi Uttaranchal Himalayas, be it Offbeat destinations or regular ones, right from Eastern Uttaranchal Himalayas (Kumaon) till Western Uttaranchal Himalayas (Garhwal).We have the purpose to serve you at your choice of destination-If you want to explore the fun of snow or want to know how it feels like to ski down, we have Cliff Top Club, Auli at your service where we teach you how to fall first before actually getting up.

If you wish to know how it feels like to just be with the water all around we have Ganga Beach Nature Camp, Brahmpuri/High Banks Himalayan Retreat,Shivpuri...Both Near Rishikesh where you will never drown, even if you wish to. If you wish to watch one of the beautiful sunrise / sunset in the country over the largest panorama of snow clad Himalayas and wish to breathe the purest form of oxygen, we have got Pinnacles Retreat,Mukteshwar for you. If you just wish to be out of the world for few days, we have got Chestnut Grove Himalayan Lodge,Chaukori for you. If you wish to master an ancient art of yoga & meditation which we Indians presented to whole of the world and which we ourselves never practice, we have got High Banks Peasants Cottage, Rishikesh or High Banks Himalayan Retreat,Shivpuri 16th milestone Rishikesh,for you where even the Hollywood Stars have stayed.

If you wish to experience wilderness and just listen to the roar of the Tiger or other cat/dear/wolf family members, we have got Safari Rangers Club / Riverwild / Jungle Lore Lodge, Corbett Park for you. If you wish to be more environmental friendly and have the most natural form of experience, we have got camps & log huts for you at High Bank Himalyan Retreat, Shivpuri / Chestnut Grove Himalayan Lodge, Chaukori / Getaway Jungle Camp, Sattal. If you wish to experience history alongwith the natural beauty, we have Vimoksha Resorts, Ranikhet & Retreat Anand, Lansdowne where you can visit war museums. If you are a lazy kind of a person and just want to relax, there are ample destinations like Mountain Club, Bhimtal / Patal Resort, Patalbhuwaneshwar which can give you a secluded experience.

For Business minded, seeking to hold a Conference at Serene Locations, We have Destinations 250 Km - 500 Km....Bhimtal, Corbett,Auli.

For Honeymooners, there is a choice from Mukteshwar & Auli or even a combination of both. For the individual weekenders or an offsite Corporate get-togethers or those companies seeking weekend destinations for a serious meeting or meeting cum pleasure, we have got destinations from 235 Km upto 488 Km of Delhi. One can also enjoy regular destinations like Nainital and Mussorie. Or you can always ask for our 24X7 hotline advice to choose or combine any of the destinations with the other one. For the spiritually oriented, one can choose any of the destinations form Haridwar, Rishikesh, Badrinath, etc or the complete salvation - the Char Dhaams where we will mark our presence very soon.

INCREDIBLE INDIA-Where Hospitality is a Tradition!!!
uttarakhand map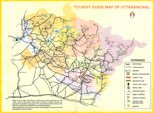 Click for Enlarge View