Clifftop club, auli

HOW TO REACH -------------------------------------------------------------------------------------------------
Joshimath-Auli Cable car is Operational now.
-------------------------------------------------------------------------------------------------


In case under maintenance, Guest MUST be in Joshimath by 3 PM in order to further drive 14 Km uptill Govt. Bungalow and catch an enjoyable chairlift which will leave Guest few yards up from Cliff Top Club. Guests are suggested to call Resort before boarding the same so that Room Boys can be sent to pickup luggage.

Guest MUST have to reach Joshimath at 3 PM (July-Apr) & 6 : 30 PM (May & June) to take last cable car connection to Auli.
The road from Joshimath to Auli opens from Mid-April to mid November and also opened in winters (subject to normal snowfall).

By Train
The nearest Railway Station is Rishikesh / Haridwar which is directly connected from Delhi by Shatabdi Exp., from Bombay by Bandra-Dehradun Exp. and from Calcutta by Howrah-Doon Exp. and from Lucknow by Gorakhanath/Doon Exp. Rishikesh to Joshimath is to be covered by road(253 Km).


Train No.
Train Name
Origin
Dep.Time
Destination
Arr.Time
Days Of Run
M
T
W
T
F
S
S
2017
DEHRADUN SHTBDI
NEW DELHI
06:50
HARIDWAR JN
11:25
Y
Y
Y
Y
Y
Y
Y
2055
DDN JANSHTBDI
NEW DELHI
15:25
HARIDWAR JN
19:30
Y
Y
Y
Y
Y
Y
Y
2205A
NZM DDN AC SPL
H NIZAMUDDIN
23:55
HARIDWAR JN
03:55
N
N
N
N
N
Y
N
4041
+MUSSOORIE EXP
DELHI S ROHILLA
21:05
HARIDWAR JN
05:52
Y
Y
Y
Y
Y
Y
Y
9019
DEHRADUN EXP
*H NIZAMUDDIN
05:45
HARIDWAR JN
15:20
N
N
N
N
Y
Y
N
9105
HARIDWAR MAIL
*DELHI CANTT
04:40
HARIDWAR JN
12:30
Y
Y
Y
Y
Y
Y
Y
9265
UTTARANCHAL EXP
*NEW DELHI
11:30
HARIDWAR JN
16:47
N
N
N
N
N
Y
N
8477

UTKAL EXPRESS

*H NIZAMUDDIN
14:35
HARIDWAR JN
20:30
Y
Y
Y
Y
Y
Y
Y




Train: Haridwar-Delhi


Train No.
Train Name
Origin
Dep.Time
Destination
Arr.Time
Days Of Run
M
T
W
T
F
S
S
2018
DEHRADUN SHTBDI
*HARIDWAR JN
18:13
NEW DELHI
22:45
Y
Y
Y
Y
Y
Y
Y
2056
NDLS JNSHTBDI
*HARIDWAR JN
06:22
NEW DELHI
11:15
Y
Y
Y
Y
Y
Y
Y
2206
NZM DDN AC EXP
*HARIDWAR JN
00:40
H NIZAMUDDIN
05:05
N
Y
Y
Y
Y
Y
Y
4042
MUSSOORIE EXP
*HARIDWAR JN
23:20
DELHI S ROHILLA
08:20
Y
Y
Y
Y
Y
Y
Y
4318
+DDN INDB EXP
*HARIDWAR JN
07:43
H NIZAMUDDIN
13:25
N
N
N
N
Y
Y
N
8478
+KALINGAUTKALEXP
HARIDWAR JN
06:00
H NIZAMUDDIN
11:45
Y
Y
Y
Y
Y
Y
Y
9020
DEHRADUN EXP
*HARIDWAR JN
12:50
H NIZAMUDDIN
21:20
Y
Y
Y
Y
Y
Y
Y
9106

HW ADI MAIL
HARIDWAR JN
15:25
DELHI CANTT
23:03
Y
Y
Y
Y
Y
Y
Y


By Road
(The best option is to) travel from Delhi by road. Delhi to Haridwar is 199 kms. on National Highway no. 47 (NH-47). The climb from Haridwar to Joshimath is 277 kms and takes about 9-11 hours depending on an average speed, type of vehicle, no of halts taken in between for refreshments, views ,etc. The ascent to Joshimath winds through Rishikesh, Srinagar, Karnaprayag, and Chamoli. Joshimath to Cliff Top Club Resort is 17 km by road or 4 km/20 minutes by cable car. The ropeway is Asia's highest and second largest, and charges Rs. 500/- per person for a round trip. Initial 14 Kms is a metalled road and the last 3 Kms is steep climb and bumpy, because of banned construction by the Border Roads Authority. This last 3 Kms is better negotiated by a 4WD / 4x4 vehicle that too during non-snow fall summer time(or less snowfall).

PLEASE HAVE A LOOK AT IMPORTANT URL:
We suggest a stay at Our sister concern Lodge/Camp at Rishikesh or Our Exclusive Associate,an only Hotel in Srinagar (Kirtinagar) to break the journey if required for The Guests reaching Auli via Garhwal Region (Western Uttaranchal)
RISHIKESH-http://clifftopclubauli.com/high-banks.html
SRINAGAR-http://clifftopclubauli.com/riverside-resort-kirtinagar.html
OR
If the Guest are coming from Kumaon Region (Eastern Uttaranchal),They can have a night stay at i.e. Bhimtal/Nainital/Corbett National Park,where We have our own units.
BHIMTAL : Mountain Club http://clifftopclubauli.com/mountain-club.html
OR
NAINITAL : Alpine Club http://clifftopclubauli.com/alpine-club.html
OR
CORBETT PARK : Rangers Club Game Lodge http://clifftopclubauli.com/rangers-club-game-lodge.html

By Air
-The nearest airport is Jolly Grant near Dehradun (268 Km). Indian Airlines/Jet Airways regulates flights from Delhi/Bombay. Air India flies from Delhi twice a day with first flight at 9:30 AM in the morning last at 3:00 PM. Very soon a new airport at Gauchar (92 Km) will be operational within a year which is awaiting due clearance from DGCA.

Resort has its own Private Helipad and after obtaining necessary clearance from DGCA/ Border Authorities, Chopper can Land. We have negotiated rates with few Private Operators. Flights can be chartered and costs App. 1 Lacs for 5 People for an Hour flight (subjected to weather conditions). Sometimes, flight takes more time and additional 15 min can cost another 25000.
INCREDIBLE INDIA-Where Hospitality is a Tradition!!!.
PLACES OF INTEREST In Auli/ARound Resort.
Lake Valentine, Gorson Sunset Point & Sanjeevni Temple/Chairlift ride.
Joshimath at NightIn/Around Joshimath: (Winter Seat of Lord Vishnu) 4 Km by Ropeway / 17 Km by Road.
Shankracharya Cave (Where He meditated and attained Divya Gyan Jyoti)

Narsimha Temple:
The temple is about 1200 years old. Dedicated to Vishnu, the presiding deity of the temple is Narsimha, the half-man, half-lion and fourth incarnation of Vishnu. Like Badrinath, he is also sitting in the padmasana. The characteristic feature of the deity is that its left wrist is very thin and is getting thinner by the day.

Vasudeva Temple:
Situated some 30 yards from the Narsimha Temple, the Vasudeva Temple is one of the most famous Vishnu temples in India. It was considered very sacred by the Tamil vaishnavite saints known as alvars . The presiding deity of the temple is Vasudeva who is identified with Vishnu. The idol is carved out of a piece of black stone measuring 6 feet in height.

Tapovan Hot Sulphur Water Springs (14 Km).

Badrinath:
46 Kms, App. 2 Hours from Joshimath.

The seat of the Shankaracharya, Badrinath is one of the four holiest places Hindus must visit to complete the "char-dham" pilgrimage. Non-believers revel in the natural beauty of the roaring Rishi Ganga river as it merges into the mighty Alaknanda river to flow down the Himalayas into the plains as the Ganga . Dawn breaks over the Neelkanth peak amid resounding temple bells and as the day winds on, thousands of pilgrims bathe in the hot sulphur springs at the foot of the temple before paying obeisance to Lord Vishnu, the Preserver and one of the Trinity of the Creator (Brahma), Preserver (Vishnu) and Destroyer (Mahesh). A 40 km drive from Cliff Top Club to Badrinath through Joshimath and Govindghat winds through the most picturesque mountain roads that cut through the steepest Himalayas . Steep gradients with hairpin bends flanked with apple trees provide a magnificent view of the Alaknanda gorge, where the river makes her presence felt with the roar of gushing waters that emanate from the glaciers beyond Mana, the last Indian inhabited village.

Places of interest around Badrinath are Mana village, Ganesh gufa, Vyas gufa, Bhim pul where the legendary Saraswati River is believed to have descended on earth.The temple of Shri Badrinath opens in April and closes in winter each year. The deity is worshipped at Joshimath during the winter months.

Hemkund Sahib :
27 Km by Road from Joshimath + 18 Km Trekking.

Hemkund Saheb is near the Valley of Flowers that is 20km from Joshimath. It attracts thousands of Sikh pilgrims because Guru Govind Singh, the tenth Sikh Guru (spiritual head of the Sikhs), had meditated by the Hemkund Lake in his previous birth. Nature too has been bountiful in making this place beautiful. There is a majestic gurudwara (a Sikh place of worship) near the lake where people offer prayers after bathing in its cold waters. The place also attracts Hindus in large numbers. It is referred to as Lokpal in the Hindu texts. Like most of the hill stations of India, the Valley of Flower was rediscovered by a British mountaineer, Frank Smiche, in 1938. His book, Valley of Flowers, which became a bestseller in those days, dwells mainly on the beauty of this place.

Valley of Flowers:
27 Km by Road from Joshimath + 17 Km Trekking.
The ascent to the Valley of Flowers begins from the small settlement of Govindghat (1800 m), 22 km beyond Joshimath en-route to Badrinath. After crossing a suspension bridge over the Alaknanda a 3 km trek brings one to the small village Pulna with basic facilities to tourists. The next 9 km trek from Pulna to Govind Dham (Ghangaria) is for the most part along the Bhyundar Ganga. This route is punctuated with waterfalls, wild flowers, forests and beautiful landscapes. On the way there is one more small migratory village, Bhyundar, named after the river and surrounded by dense broadleaf moist temperate forest. The last stretch is a steep ascent to Govind Dham, 3 km beyond which lies the Valley of Flowers.

The Valley of Flowers National Park (87.50 km2, lat 30° 41' - 30° 48'N and long 79° 33' - 79° 46'E) is located in Chamoli Garhwal, about 595 km northeast of India's capital Delhi in the state of Uttar Pradesh. Its altitude ranges from 3,200 m to 6,675 m. Such a variation in the altitude provides a great diversity of landscape and microhabitats.

The credit for the popularising the Valley of Flowers generally goes to the British mountaineers Frank S. Smythe and R.L. Holdsworth who incidentally reached this valley after a successful expedition of Mount Kamet in 1931.

Fascinated by its beauty and grandeur, Frank S. Smythe revisited this area in 1937 and published a book "The Valley of Flowers in 1938. But according to Manmohan Sharma's book on the Valley of Flowers published in 1985, it was Colonel Edmund Smythe, an explorer and Education Officer in the Indian Army who visited this valley much earlier in 1862. However, there is no doubt that F.S. Smythe's writing made this valley world famous.



uttarakhand map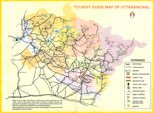 Click for Enlarge View