Clifftop club, auli
FACILITIESThe resort is located in a green belt, a protected area just outside the Nanda Devi Biosphere Reserve, declared a World Heritage Site by the UN. Stringent environmental and wildlife laws limit the usage of resources and development of infrastructure. Working within these limitations, we have provided the best of comforts and facilities ever possible for a high altitude resort complete with silent generators for partial power back up.

It may take some time for the storage geysers to yield enough hot water after they have been used once, hence you are advised to wait a few minutes for the required amount to hot water, considering the height at which we are situated.

Medical facilities can be availed at the army set up in Auli or Joshimath. Mobile networks do not function, except BSNL in some pockets of the resort.
AMENTIES AND SERVICES: 01. 43 spacious, well furnished, luxurious rooms with magnificent views.
02. A choice of studios, one bedroom and two bedroom family suites.
03. Rooms equipped with carpeting, comfortable beds, sofas, heaters, wardrobes, side and coffee tables, seating, storage chests, partial kitchenette, refrigerator, cable TV, intercom, spacious bathrooms equipped with modern tubs and fixtures.
04. Multi-cuisine dining with a delectable spread for breakfast, lunch and dinner.
05. Indoor restaurant /outdoor decks
06. Bar opening soon
07. Daily bonfire entertainment evenings with games, music and dance.
08. Evening barbeque snacks on request.
09. Indoor games room-TT, carom, board games and outdoor games-cricket, volleyball.
10. En suite oil massages on request.
11. Special packages for honeymooners.
12. Specially tailored itineraries/activities for schools and corporate groups.
13. Own ski equipment and instructors.
14. Pick up and drop service at actual rates from Haridwar/Joshimath.
15. Trekking guides for short treks and for Valley of Flower .

ADVENTUROUS ESCAPADES 01. Hiking/Trekking/Nature walks.
02. Organized Mountaineering, Rock Climbing.
03. River Rafting (seasonal).
04. Organized Pilgrim Tours.
05. Jungle Camping.
06. Ski School (Trainer/Equipment/Porter)
07. Mountain Bikes available.
08. Cross-Country Skiing (Nearby).
09. Downhill Skiing (Nearby).
10. Fishing (16.0 miles).






uttarakhand map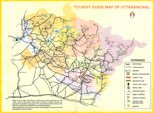 Click for Enlarge View