mountain club, bhimtal



Mountain Club is located in the area's most beautiful location, June Estate. The estate used to be the most sought after holiday destination by the British during the days of the Raj. Mountain Club is surrounded by dense oak forests stretching out for miles from the door of the Club. Bhimtal is famous for it's beautiful lake, Which is even larger then the Naini Lake, its serene environment and picturesque mountains. The surrounding forest is extremely rich in Himalayan wildlife and various birds of high altitudes. There are several treks leading from the resort through the dense forest to the surrounding lakes.

Mountain Club is a heritage property that is now renovated to accommodate the tastes of a discerning clientele while still retaining its old world charm. The refurbished blocks are beautifully paneled in wood on the outside, enabling the architecture to merge with the dense forested environs.

A beautiful conference hall, tree-top restaurant and open bonfire area combined with the tranquil atmosphere where the stillness is broken by the call of one of the 350 species of birds or a barking deer or leopard makes Mountain Club a preferred getaway for those who wish to exult in the lap of nature.

Numerous walkways, trekking trails leading to the forested lakes of Sattal, a natural rock climbing area at a walking distance, proximity to Nainital-the popular holiday destination and easy access by road or rail from Delhi serve to make Mountain Club a popular weekend destination for corporate groups as well as families.

Mountain Club environs provide relaxation, peace, adventure and exclusivity, all suitable for niche groups planning for boating, trekking, fishing, paragliding, yoga, de stressing workshops, conferences or plain leisure with bonfires and barbeques..


HIGHLIGHTSThe Lake region of Nainital comprises the constellation of the lakes of Naini, Bhimtal, Naukuchiyatal, Sattal, Nal Damyanti tal..

Of these lakes, Bhimtal is the largest, even larger than the Naini lake.
Fishing is allowed on a catch and release system with permits issued from the Fisheries Department at Bhimtal. Boating in Bhimtal promises to be a highly pleasurable experience with fewer crowds and a larger water body to circumnavigate.

Horse riding and paragliding can be enjoyed at Naukuchiyatal. The Ram, Sita and Panna Tal of Sattal are forested lakes in the truest sense and boating in this constellation of lakes takes you back to the lap of nature.
Nestled in the over - lapping or blend zone of the Palearctic(Temperate) and the Oriental ( Tropical) Zones of Zoo-geography this lake region is host to 500 - plus species of resident and migratory birds, 20 species of mammals( excluding rodents) more than 525 species of butterflies and 11,000 plus species of moths, beetles, bugs and other insects. .

Identically, the flora covers a wide range of species including orchids, rare climbing plants, ground and tree ferns and fungii. Simply stated, this region encompasses a vast and unique panorama of floral and faunal biodiversity with no equivalent or comparison( at this elevation ) in the entire Himalayas..



LOCATIONBhimtal: latitude 29 degrees 20'40" N; Longitude 79 degrees 36'16"E.
Mean elevation of all the lakes: 4300 feet (1310 meters).
Highest points: Karkotak peak :-6319feet(1927 mts) Mountain Club is located at 17 km from Kathgodam railhead, 22 km from Nainital, 300 km from Delhi and 4 km from the main road adjoining Bhimtal Lake.
uttarakhand map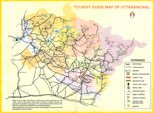 Click for Enlarge View