mountain club, bhimtal
| | |
| --- | --- |
| Studio EP | rS. 4400 |
| Studio AP | rS. 6600 |
| Suite EP | rS. 6600 |
| Suite AP | rS. 8580 |
| | |
| Packages | |
| 2N3D Map | rS. 11000 |
| 3N4D Map | rS. 15400 |
| 2N3D AP | rS. 12100 |
| 3N4D AP | rS. 17050 |
| | |
| Meal plan adult | rS. 1100 |
| Meal plan child | rS. 550 |
| Extra bed | rS. 990 per day |

(5.15% Tax on All packages & All plans)

Terms & Conditions
• Rates Validity : March 2016
• The Booking / Reservation shall be confirmed after the receipt of full payment in advance.
• No bookings /reservations shall be entertained below the rates specified above.
• The rates for room / Package are for two persons on twin sharing basis.
• Any additional night will be charged on pro-rata basis.
• Children below 5 years are free,children between 5 to 12 staying in the same room shall be charged 50% (with extra bed).
• Cancellation: 90% amount room rent / Package cost refunded before 30 days of arrival date at resort. 50% room rent / package will be refunded 20days of arrival date and 25% room rent /package will be refunded 10 days of arrival date at resort. No refund in any case for cancellation with in 7 days of arrival date at resort.
• Preponement/postponement of any booking will be treated as cancelled & liable for cancellation charges as mentioned above.
• Any delay or cancellation of hotel booking on account of cancellation of flights or any other transport arrangement due to bad weather or other natural cause will be liable for cancellation charges as mentioned above.
• Resort has right to revise / suspend any tariff/ Package offered at any point of time and can refund the advance received.
• 5% Luxury Tax on rooms on European Plan and 8% Sales Tax on F&B on Ala-Carte/Room Service is applicable .


HOW TO REACH :
By Road:
Mountain Club is located at a convenient 300 km drive from New Delhi. The route passes through Hapur bye pass-Moradabad bye pass-Rampur-Rudrapur-Haldwani-Kathgodam-Ranibagh-Bhimtal. The drive takes six hours from Delhi and one can avoid the morning rush at towns enroute if one manages to leave Delhi by 6 am and arrive at Mountain Club by noon.

By Train:
The Ranikhet express from Old Delhi Railway station departs at 10 :40 pm and arrives at Kathgodam by 5: 30 am. A short 17 km drive from Kathgodam in a hired vehicle takes you to Mountain Club in under 40 minutes.

Important to note:
All private vehicles can drive to the doorstep of Mountain Club.However buses of 27 seater capacity or more cannot negotiate the last stretch of forested road leading up to Mountain Club from the main road at the lake.In case of groups arriving by bus,you can avail of the pick up and drop facility at nominal charges provided by the resort.



PLACES OF INTEREST:Mountain Club, located in the exclusive ambience of June Estate at Bhimtal is the destination for naturalists, especially bird watchers and photographers. Tall pine and oak trees and numerous nature trails leading into dense forests as well as high ridges afford unparalleled sightings of Himalayan avifauna. This region encompasses a vast and unique panorama of floral and faunal biodiversity with no equivalent or comparison (at this elevation) in the entire Himalaya.

Nestled in the lap of the over-lapping or blend zone of the Palearctic (temperate) and the Oriental (tropical) Zones of Zoo-geography this lake region is host to 500 - plus resident and migratory birds, 20 species of mammals (excluding rodents) more than 525 species of butterflies and 11,000 plus species of moths, beetles, bugs and other insects. Identically, the flora covers a wide range of species including orchids, rare climbing plants, ground and tree ferns and fungi..

A trail from Mountain Club takes you over a ridge with a breathtaking view of Bhimtal on one side and the forested lakes of Sattal on the other. Feel the wind and view the wings as you walk down the trail to Sattal and tick off the birds on your checklist. Boat in the serene environment of the seven lakes, watch for more avifauna along the banks of the lakes, feed the fish or fish for trout (with permits from Fisheries deptt. Bhimtal), or just picnic and laze in the lush green environs of the most fiercely protected and unspoilt area of the Lake District of Nainital. And for those yearning for more birds, head 22 km to Alpine Club, Nainital.


uttarakhand map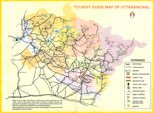 Click for Enlarge View